CORPORATE RESPONSIBILITY STRATEGY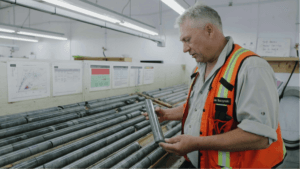 "Our corporate responsibility is to minimize our impact while creating economic opportunities that give lasting and real value for our stakeholders. It means being ethical, transparent, making intelligent, innovative and cooperative choices, and above all being respectful of the culture of the members of our host community."
John F. Burzynski, Executive Chairman, CEO & Director
The Board of Directors and the Management team monitor our performance in the pillars of society, health and safety, environment and economy, and align our strategies to meet new challenges. Our approach is dynamic, flexible and evolving.
Visit our Data Center to learn how we have anchored sustainability in our business strategy through our policies and code of conduct.
HUMAN RIGHTS AND FREEDOMS
In Canada, human rights are protected by federal, provincial and territorial laws. Canada's human rights laws stem from the Universal Declaration of Human Rights. We are committed to respecting and promoting human rights in all our operations as stipulated in our Human Resources Policy.
We are also monitoring and working proactively to improve the beneficial impacts and minimize the negative impacts of our activities on individual and human rights. We do not and will not employ children as stipulated in our Code of Business Conduct and Ethics.
Sustainable Development Reporting
Please visit our Data Center to learn more.
Sd
Senior Vice President Sustainable Development Department
Health & Safety
Community Relations
Enviroment
Human Resources