WORKFORCE
At Osisko Mining, our success is based on an engaged workforce that supports our values and shares our corporate culture.
We strive to offer a dynamic, welcoming, safe and inclusive environment.
We offer fair pay and benefits.
We acknowledge our employees' achievements and provide rewarding opportunities for development.
We foster and continuously improve an exemplary organizational culture.
To learn more about our commitments, consult our Human Resources Policy.
Hr
Human Resources Team
 Human Resources Director
 Human Resources Advisor
 First Nations Human Resource Facilitator
Nurse Coordinator & Nurse
2021 HIGHLIGHTS
30
of our employees are First Nations
37%
of our workforce live in Nord-du- Québec and Abitibi-Témiscamingue
100%
of our workforce live in Canada
DIVERSITY AND INCLUSION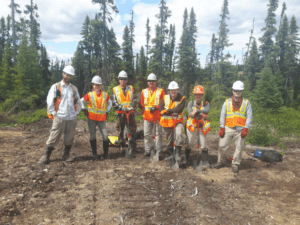 Waswanipi community members work on the archaeological survey.
We are committed to promoting a respectful, diverse and inclusive workplace and implementing practices to ensure every individual has an equal opportunity to evolve according to their skills.
The diversity of our workforce is a strength and helps us succeed by bringing together varied experiences, backgrounds, skills and viewpoints.
We strive to create the conditions for greater inclusion within our leadership and workforce and eliminating barriers that impact First Nation workers.
EMPLOYEE DIVERSITY – DECEMBER 2021
Women – 53
30%
Men – 122
70%
Women and
gender Queer – 4
50%
Men – 4
50%
Women – 9
35%
Men – 17
65%
Women – 40
28%
Men – 101
72%
EMPHASIS ON LOCAL EMPLOYMENT
We work with our First Nations partners and local communities to ensure local employment.
We believe the Windfall Project should benefit people living in the region and we have developed a process to support hiring local people.
Windfall Project – Employees by Host Communities – DECEMBER 2021
FIRST NATIONS – 23
17%
Nord-du-Québec – 8
6%
Abitibi-
Téminscamingue – 31
23%
Québec
(other
regions) – 70
52%
Ontario – 2
1%
EMPLOYEE DEVELOPMENT
By sharing best practices and training, we give employees the opportunity to upgrade their technical knowledge, skills and competency.
We emphasize health and safety training and offer leadership training to improve the leadership skills of our supervisors.
To make sure we have the right people in the right positions, we conduct an annual standardized performance review for all employees. This helps us identify employee strengths, assess and address difficulties, and plan personalized development.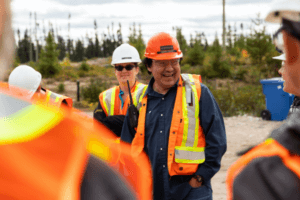 Harry Grant, Water Treatment Operator, is happy to explain his role in the Windfall Project to local entrepreneurs, July 2019.
REMOVING UNNECESSARY BARRIERS FOR MORE INCLUSION – WATER TREATMENT OPERATORS
Post date: June 18, 2020
Our culture is shaped by innovative thinking and practices that redefine the way we manage our activities. We constantly question our way of doing things. This led us to review our selection criteria when hiring new operators for the water treatment unit. Removing unnecessary barriers – such as a high…
Read Story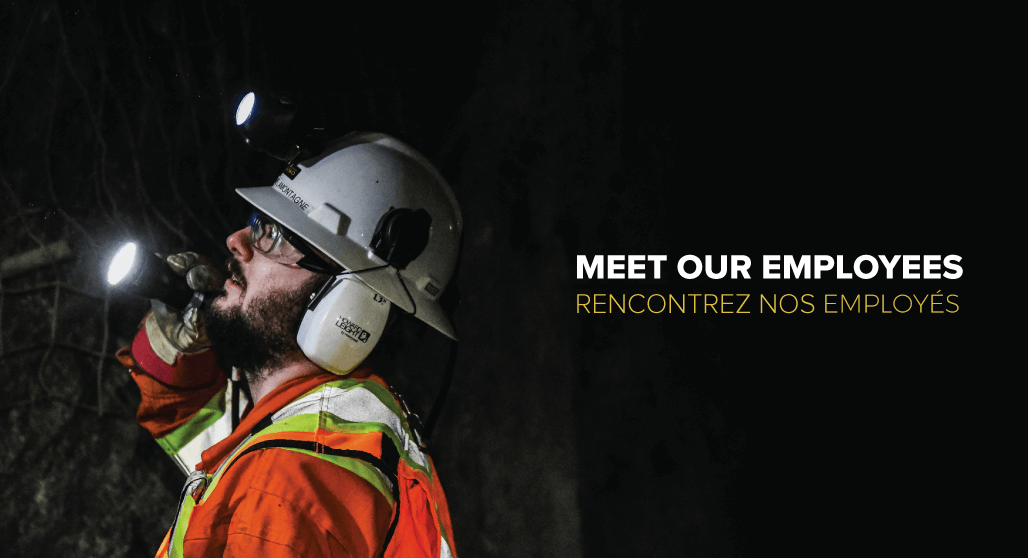 Date posted: March 15, 2018
CURRENT OPENINGS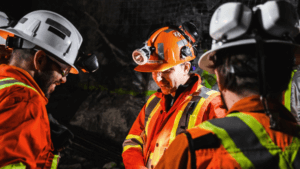 Are you interested in a career at Osisko Mining?
CURRENT OPENINGS