Our Mission
Osisko Mining is a mineral exploration company focused on the acquisition, exploration, and development of gold resource properties in Canada. Our main objective is to create value for all of our stakeholders, including our shareholders, employees and host communities.
Our Values
Osisko Mining has five main values that guide our employees and define our company culture.
Passion: Use our passion and commitment to energize, engage and inspire.
Respect: Display respect in all our actions and interactions.
Integrity: Be honest, open, ethical, and fair. Keep our word.
Diversity: Hire and nurture a diverse and inclusive team.
Efficiency: Be efficient and creative in our use of resources.
Our Projects
a 50% interest in the high-grade Windfall gold deposit located between Val-d'Or and Chibougamou in Québec
a 50% interest in a large area of claims in the surrounding Urban Barry area and nearby Quevillon area (over 3,300 square kilometres)
Funding
Osisko Mining continues to be well financed with over $300 million in cash and investment as of June 30, 2020.
Governance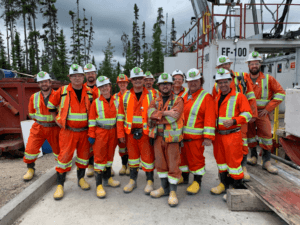 The Board and Management visit the Windfall site with the operational team, August 2019.
The Board of Directors and management believe that good corporate governance is vital to Osisko Mining's long-term success and the protection of our stakeholders' interest.
Our directors commit to maintaining the highest standards of corporate governance according to evolving best practices and regulatory guidance.
Osisko Mining's Corporate Governance practices comply with those set out by the Canadian Securities Administrators, including National Policy 58-201 – Corporate Governance Guidelines and National Instrument 58-101 – Disclosure of Corporate Governance Practices.
Management
MANAGEMENT DIVERSITY – 2022
MANAGEMENT DIVERSITY – MAY 2020
Women and
Gender Queer - 4
40%
Men - 6
60%
Board of Directors
We believe that diversity enriches discussions among directors, reflects the company's relationship with stakeholders and ensures sound corporate governance. The Board is comprised of a majority of independent directors, including an independent lead director.
BOARD DIVERSITY – 2022
BY INDEPENDENCE
BY GENDER
NON-INDEPENDENT DIRECTORS – 2
25%
INDEPENDENT DIRECTORS – 6
75%
WOMEN – 3
38%
MEN – 5
62%
The Corporate Governance and Nominating Committee seeks directors who represent different genders, ages, cultural communities, geographic areas and other characteristics of the communities where we conduct our business. See our  Policy Regarding the Diversity of the Board of Directors
Committees and Mandates
The Board meets at least four times a year, supported by the following committees:
Please visit our Data Center for our Charters and Mandates.
Business Ethics and Policies
Osisko Mining and the Board of Directors approved corporate governance guidelines to help us effectively manage our affairs and perform our responsibilities to the highest legal and ethical standards.
A Code of Business Conduct and Ethics applies to all employees, contractors, consultants, officers and directors and promotes honest, respectful, accountable and ethical conduct.
We have a ZERO tolerance approach to the act of bribery and corruption by any employees, officers, directors, agents, consultants and contractors as set out in our Anti-bribery and Anti-corruption Policy.
A Whistleblower Policy is in place for our employees, consultants, contractors, directors of officers to communicate concerns, confidentially and anonymously, about possible improprieties, illegal or unethical activities and ensures that measures are in place for an impartial investigation.
The Board of Directors approved several policies and provides on-going monitoring of the implementation. Please visit our Data Center to learn more.
Find out more
Anti-Bribery and Anti-Corruption Policy
August 10, 2022
Download
View
Confidentiality and Insider Trading Policy
August 10, 2022
Download
View
Articles of Amalgamation
January 1, 2019
Download
View
Diversity of the Board of Directors & Executives Policy
April 14, 2022
Download
View
Corporate Disclosure Policy
August 10, 2022
Download
View
By-Law No. 1
June 29, 2018
Download
View
Majority Voting Policy
November 13, 2017
Download
View
Clawback Policy – Policy on recoupment of incentive compensation
April 27, 2017
Download
View
Code of Business Conduct & Ethics
August 10, 2022
Download
View
Whistleblower Policy
August 10, 2022
Download
View
Recognition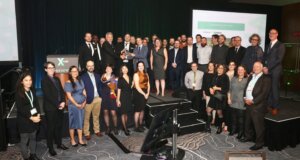 2022: Entrepreneur of the year
Quebec Mining Exploration Association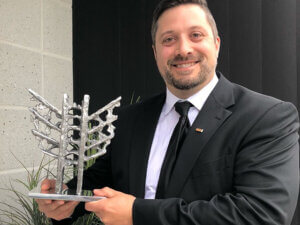 2021: Mercure award - Desjardins Sustainable Development Strategy
Les Mercuriades - Fédération des chambres de commerce du Québec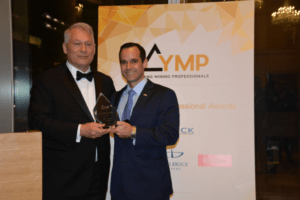 2019: Peter Munk Award – Young Mining Professionals
Jose Vizquerra-Benavides (Director and former Executive Vice President of Strategic Development)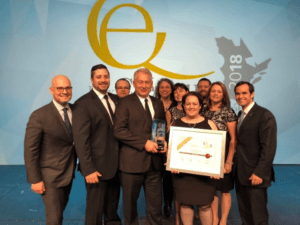 2018: Champion for the Nord-du-Québec region
Créateurs d'emplois du Québec award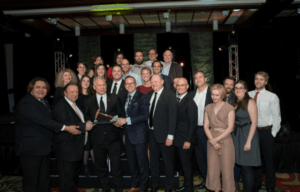 2017: Discovery of the Year award for the Lynx deposit
Québec Mining Exploration Association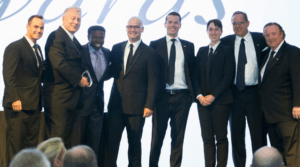 2017: Exploration Award North America
Mines and Money Americas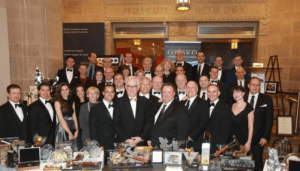 2016: Best North American Exploration Mining Company of the Year
Mines and Money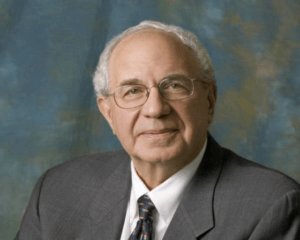 2016: Mining Journal's 2016 Lifetime Achievement award
Ned Goodman (former Osisko Mining's co-chairman)