Health and Safety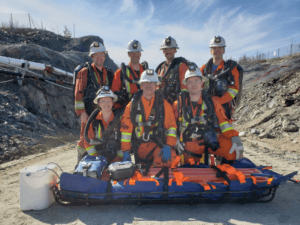 Windfall mine rescue team training.
We put people first and our number one priority is their safety. We consider the health and safety of our workers, partners and the general population to be an integral part of the application of our core values. This means we:
Provide a healthy and safe workplace.
Identify and control workplace hazards and risks.
Develop emergency action plans.
Train and engage our workforce.
Monitor and aim for continuous improvement.
Maintain and continuously improve an exemplary culture of health and safety.
To learn more about our commitments, consult our Health and Safety Policy.
Hs
Health and Safety Team
Health & Safety Superintendent
Senior Prevention Officer
Health & Safety Prevention Officer
Risk Assessment Approach
Our Occupational Health & Safety Management System (OHSMS) is designed to effectively manage health and safety by identifying risks, planning and implementing proper controls.
We develop our standards, procedures and our OHSMS documents to meet applicable laws and industry best practices.
We regularly update our OHSMS to maintain the proper controls, meet any legislative changes and adapt it to any new activities.
We investigate each incident to find the root causes and take immediate action to prevent a reoccurrence.
We conduct ongoing preventive activities and take related corrective measures.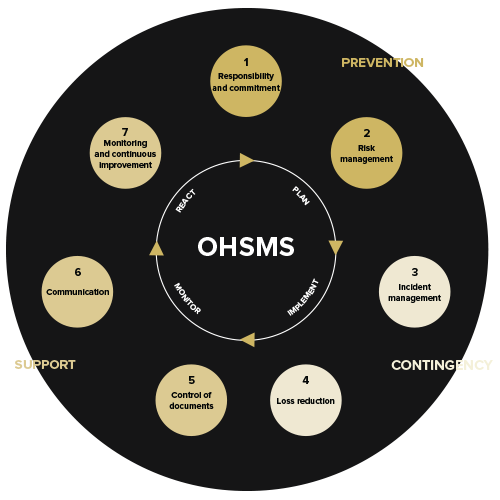 2022 HIGHLIGHTS
845,556
hours worked (employees and contractors)
1.66
LOST TIME INJURY FREQUENCY RATE
Lost Time Injury Frequency Rate (Employees and Contractors)
2017
2018
2019
2020
2021
2022
1.6
0.7
0.57
0.44
2.01
1.66
Find out more about our health and safety performance and approach: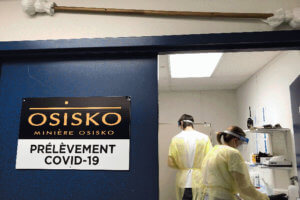 Windfall on-site laboratory. Test results are rapid and are available generally within in a few hours after samples are taken. The type of testing is able to do is equivalent to laboratories in the South.
OSISKO MINING AND THE CREE NATION GOVERNMENT: TOGETHER IN THE MANAGEMENT OF THE COVID-19 AT WINDFALL SITE
Post date: November 30, 2020
At Osisko Mining, we were fortunate to work collaboratively with the Cree Nation Government to develop a very strong Covid-19 protocol. This collaboration allowed the Windfall project to be the first site on the Eeyou Istchee James Bay territory to benefit from an exemption to the local mandatory self-isolation law…
Read Story