Gold Pike
Property Summary
The Gold Pike property forms part of Osisko's overall Garrison Project and is located in the Province of Ontario, approximately 80 kilometers east of Timmins and 45 kilometers northwest of Kirkland Lake. The property is situated on paved highway 572. The property lies 5 km along strike southeast of the high grade Black Fox mine operated by Primero Mining Corp. (now McEwan Mining) and 1 km east of the past producing Hislop gold mine operated by SAS Goldmines (Kirkland Lake Gold).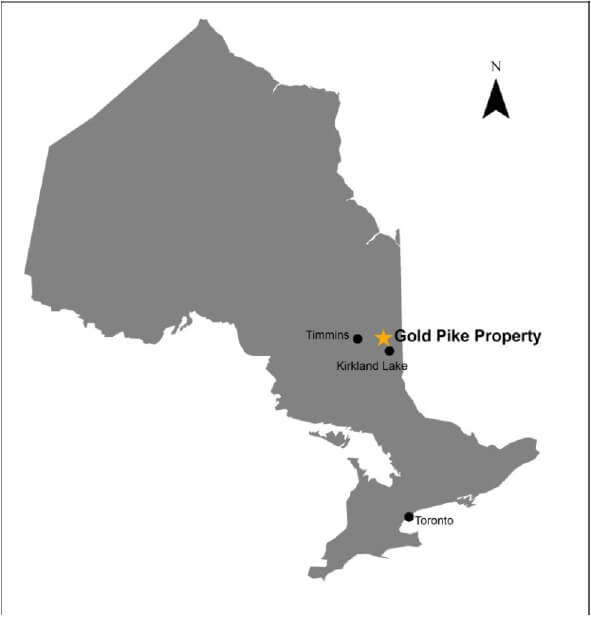 The Gold Pike property comprises 24 leased mining claims and 2 unpatented mining claims totaling 465 hectares in Northeastern Ontario. The 2 unpatented mining claims are 100% owned by Osisko and the west portion of the property (8 leased claims) containing the Gold Pike Zone is under option from Matachewan Consolidated Mines Ltd. giving Osisko a current 60% ownership, with option to increase to 70% ownership. The east portion of the property (16 leased claims) is under option from Plato Gold Corp. giving Osisko a current ownership of 40% and the Option to increase ownership to 60%. The Gold Pike claim group is located 25km west of the Garrcon, Jonpol and 903 claims.

GEOLOGY
The Gold Pike Property is located in the western portion of the Abitibi Subprovince, an area covered largely in volcanic rocks and known to host numerous gold deposits, most of which occur near major fault zones.
The Gold Pike is underlain predominantly by volcanic rocks of the Stoughton-Roquemaure Group and Porcupine series metasediments.
The Destor-Porcupine fault transects the southern margin of the property for a distance of 3 kilometers and is represented by sheared ultramafic volcanics. To the north of the fault underlying most of the claims are flows of principally pillowed to massive mafic to intermediate volcanics and lesser narrow ultramafic flows. Minor felsic porphyry dykes and biotite lamprophyre dikes are locally known to penetrate the volcanics. Auriferous quartz veining within carbonatized Mafic and Ultramafic volcanics has historically been of interest on this property.
Mafic and Ultramafic metavolcanic rocks are exposed in the Royal Oak pit, which is located within the Porcupine Destor Fault Zone (DPFZ) or a splay off of the DPFZ.
The DPFZ strikes approximately 120° with a moderate to steep south dip. Rocks in the pit are strongly foliated to schistose, and display intense carbonatization, sericitization (green mica), pervasive and vein halo silicification and abundant disseminated pyrite (locally up to 30% of the rock). Visible gold is contained in discontinuous quartz stringers, striking approximately 25° and dipping 75° east. Veins are located along both contacts between a narrow (30 m) basalt flow and ultramafic metavolcanic rocks.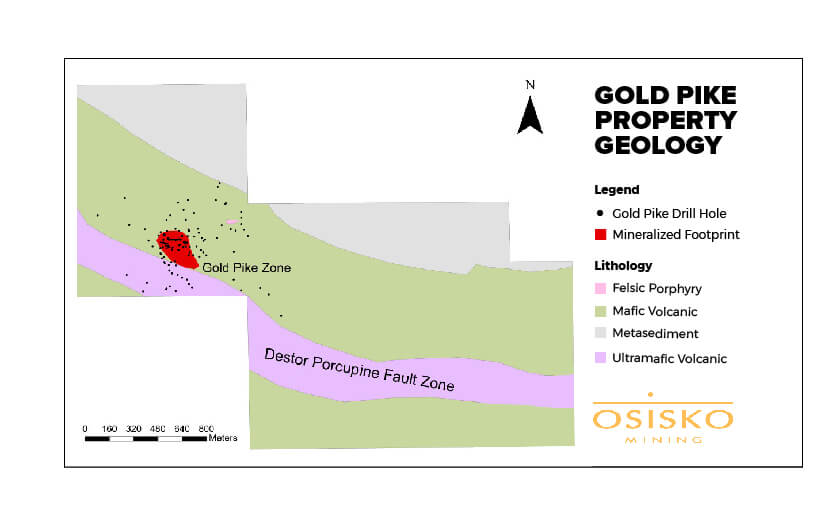 HISTORY
Prospecting in the Hislop Township area dates back to as early as 1905 but it wasn't until 1933 that gold was discovered in southeastern Hislop Township leading to the development of the Ross Mine (total production of 996,000oz @ 5.08g /t). Later that year gold was also discovered on the nearby Gold Pike property and an 85 foot deep 2 compartment shaft was sunk on a quartz vein carrying visible gold; the shaft was halted and the following year a second area 500 meters south (the Gold Pike Zone) was discovered near the banks of the Pike River by Falconbridge Ltd. who reporting assays as high as 11g/t in surface trenching. The encouraging surface results led to the sinking of a second shaft in 1937 to a depth of 52 meters by Hislop Gold Mines Ltd.; a single lateral level was developed at the 45 meter depth for a total distance of 88 meters. Diamond drilling totaling 760 meters was completed from this level, drilling both north and south and outlining an area measuring 36 meters long by 14 meters wide averaging grades of 2.75g/t gold. No ore was processed from the underground development.
In 1988 Noranda Exploration gained control of the Gold Pike Property and conducted geophysical surveys, outcrop stripping, surface channel sampling and diamond drilling. Surface stripping of the Hislop Gold Mines shaft area led to the discovery of a weathered, highly oxidized unit of carbonitized/green-carbonate altered and locally spinifex textured ultramafic komatiitic volcanics between flows of massive to pillowed, carbonatized mafic volcanics (Mg Tholeiites). The units strike roughly 330° and dip steeply (approximately 70°) to the southwest. Quartz veins in the green carbonate altered ultramafics occur as lenticular E-W trending veins and later northerly trending veins. Most of the east-west veins are found to dip steeply to the north, and the N-S veins generally dip steeply to the east, although some also dip to the west.
Visible gold occurs in numerous locations commonly associated with N-S trending veins. Alteration associated with the mineralized veins consists of pyritization (locally up to 15%), silicification, and local sericitization and fuchsite alteration.
Assays indicated a mineralized zone at surface around the Hislop Gold Mines shaft covering an area of 70 metres by 20 to 25 metres (approximately 1650 square meters) within both altered ultramafic and mafic volcanics.
From 1993 to 1997, the property was under lease to Royal Oak Mines Ltd. who mined 100,000 tons grading 3.3g/t and trucked the material to the Pamour Mill in Timmins. (MNDM and P. Harvey, Royal Oak Mines Limited, personal communication, 1997).
Between 2011 and 2012 Victory Gold Mines Ltd. completed 52 diamond drill holes on the property, totaling over 11,000 meters. All the drilling focused on the Gold Pike Zone and includes highlights of:
7.13 g/t Au over 65.4 meters – GP-11-08
2.02 g/t Au over 71.5 meters – GP-11-14
3.35 g/t Au over 31.5 meters – GP-12-19
3.91 g/t Au over 15.6 meters – GP-12-32
4.52 g/t Au over 11.5 meters – GP-12-48
ADVANCING FORWARD
Osisko is reviewing existing data to access the potential at the Gold Pike Property. Osisko will continue the baseline environmental studies along with maintaining the good relationship that the project is benefitting from with local communities and First Nations.