OSISKO MINING PARTICIPATES IN CREATION OF THE OSISKO FIELD EDUCATION FUND
$250,000 Donation to University of New Brunswick
(Toronto – October 10, 2018) Osisko Mining Inc. (the "Company" or "Osisko") (TSX:OSK) is pleased to announce that together with Osisko Gold Royalties and Osisko Metals Inc. have created the Osisko Field Education Fund in collaboration with the Earth Sciences Department at the University of New Brunswick ("UNB").  Together the three companies have committed to donate a total of $250,000 to the program over the next five years.
The Osisko Field Education Fund is an effort that will yield a direct benefit to students within the Earth Sciences program, helping to fund UNB's stratigraphy and geological mapping field school courses.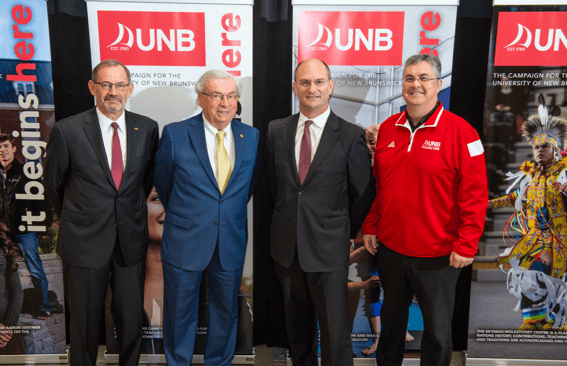 From Left to Right: Dr. Bob Quartermain Campaign Co-Chair, Dr. Mac Watson Campaign Cabinet Member, Jeff Hussey Osisko Metals, President & CEO and UNB Alumnus, and UNB President and Vice-Chancellor Eddy Campbell
About Osisko Mining Inc.
Osisko is a mineral exploration company focused on the acquisition, exploration, and development of precious metal resource properties in Canada. Osisko holds a 100% in the high-grade Windfall Lake gold deposit located between Val-d'Or and Chibougamau in Québec and holds a 100% undivided interest in a large area of claims in the surrounding Urban Barry area and nearby Quevillon area (over 3,300 square kilometres), a 100% interest in the Marban project located in the heart of Québec's prolific Abitibi gold mining district, and properties in the Larder Lake Mining Division in northeast Ontario, including the Jonpol and Garrcon deposits on the Garrison property, the Buffonta past producing mine and the Gold Pike mine property. The Corporation also holds interests and options in a number of additional properties in northern Québec and Ontario.
For further information please contact:
John Burzynski
President and Chief Executive Officer
Telephone: (416) 363-8653